NOTE: This post is part of our "The 10 Best iPad Applications for News" series. Do check back and view the latest reviews.
The Wallstreet Journal
Popularity for the reputable Wall Street Journal's iPad app has been soaring since its release, with 10,000 apps downloaded in its first two weeks. Users get superb business and market content with access to a 7-day archive that can be downloaded at any time, and users have the option of personalisation features such as accumulating articles or sections in a queue for later reading.
Some number crunching by Columbia Journalism Review (CJR) revealed that a subscription model alone would not reap that much in the long term, but if everything goes according to plan, then the six advertisers signed up for four month packages at a time might be key to bringing in real revenue. Luckily for WSJ, it has garnered enough of a dedicated and loyal fan base that remain (so far) willing to shell out for its content as the paper movesfrom platform to platform.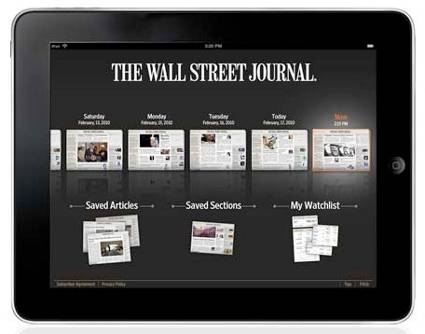 Our ratings:
1) Usefulness/Value to User
-The WSJ app is a great package that combines quality and varied content, but takes over a minute to load as it downloads whole editions. So while it is nice to have an entire day's database of articles unloaded, (and WSJ is usually more article-laden than some of the other apps), it will cause frustration to impatient types. 7/10
2) Useability/Interface
-The layout of the WSJ homepage is stunning yet simple. Photographs come across extremely attractively, and video clips are equally impressive. Jumping from page to page takes longer than other apps though. 8/10
3) Price/Business Model
- Like The Times app, it does support free downloads for existing subscribers to the WSJ.com, while charging everyone else a monthly charge of $17.29, (or £11.96). For a short-term commitment, you can get a week's subscription for $3.99, (or £2.76). A bit pricy, one might think, but it does seem more value for money than, say, The Times' endeavour. 6/10.
4) Additional Functionality
- The app includes entertainment as well as news, subscriber-only access to additional Business, Markets and Opinion content, and users can also make use of the archive feature, while articles are usually supplied with a corresponding video or photo gallery. Still, for a few more not-so-groundbreaking add-ons, it remains to be seen if the hefty price tag is sustainable in the long run. 6/10
Summary:
Certainly worth trying if you are an avid reader of the print of online editions, although the download times can cause frustration.
NOTE: This post is part of our "The 10 Best iPad Applications for News" series. Do check back and view the latest reviews.